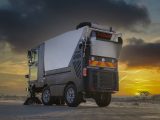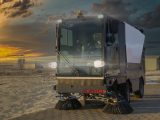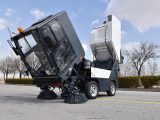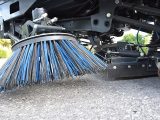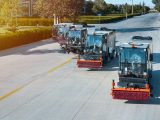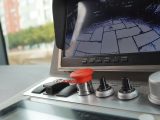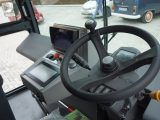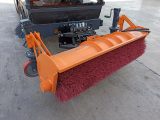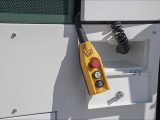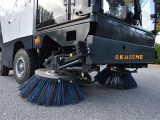 AGA 2100
Compact Road Sweeper
Compact road sweeping machine:
It was designed and produced by Turkish engineers.
Ability to go to the curb, 1.100 lt. It provides an advantage in sweeping the car parks, closed areas, and narrow urban roads with its ability to discharge directly into the garbage container, its two-wheel-drive feature, and its maneuverability.
A wide range of optional equipment is available, such as the third brush, snow blade, and salt sprayer.
Payload capacity
1.000 kg
Brand - Model
3.9 lt. 4 Silindir Su Soğutmalı Tümosan Dizel Motor
Power
85 hp / 63 kW @ 2.300 RPM
Torque
330 Nm @ 1.500 RPM
Emission
EPA Tier 3 and EU Stage 3A
Front brush
Ø 400 mm (0 - 150 dev / dk. Hidrolik motor tahrikli)
Suction hose diameter
Ø 200 mm
Suction nozzle width
650x400 mm
Sweeping width
1.500 mm - 1.900mm (3. fırça ile 2.750mm/ with 3. brush 2.750mm)
Sweeping capacity
22.500 m²
variable and adjustable brush speed
Wheelbase - Gross Vehicle Weight
1.430 mm / 4.500 kg
Dump height and angle
1.600 mm
Vacuum filter mesh area
0,5 m²
Hydraulic filtration
100 mikron emiş / 20 mikron dönüş
irrigation pump information
11 lt. / 4 bar 12V
garbage hopper structure
Stainless steel (AISI304)
Süpürme ve seyir hızı
0 - 15 km/h ve 25 km/h
Brake
Hydraulic type front and rear dynamic brake system
Suspension system
hidropnömatik süspansiyon sistemi
vehicle curb weight
3.100 kg
wall to wall turning diameter
6.700mm.
Çöp tankı tabanı, yatayla yaptığı açı
95° ± 5°
Able to dump to garbage compactor tailgate and 1.100 lt garbage container directly
Type
heavy duty, dynamically balanced impeller with multivane corrosion resistance blades
Operation speed
3000 - 4000 RPM
Fan air flow capacity
8.500 m³/h
Construction material
Stainless steel (AISI304)
Adjustable and telescopic hydraulic steering wheel
Single seat ergonomic cabin
In cabin climate control with air condition
Tiltable cabin for easy service access
Water tank level indicator
Camera system with in cabin 7" screen, rear view and suction nozzle cameras
bar water pump with high pressure washing gun (15 lt. / 150 bar)
Garbage hopper lift audible warning
Front wheel maneuverability
15lt / 150 bar high pressure pump with 10mt hose and washing gun
After-Sale Services
Get in contact with Kademe sales department to find the best deal.
Brochure
See all Kademe products and their details in this brochure.