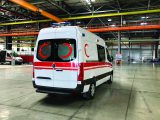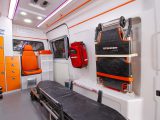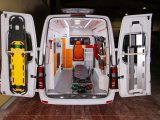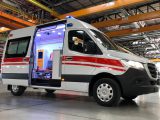 Ambulance
Our ambulances are designed in accordance with TS EN 1789+A2 standards and manufactured with resistant up to 10g crash. There are patient transportation, emergency aid and intensive care options. We design our ambulances with high-quality superstructure and medical equipments, where your needs meet with hospital standards. We have EN ISO 9001, EN ISO 13485, ISO EN 1865, TS EN1789+A2 and also CE certificates for ambulance production.
Type B Emergency Ambulance (TS EN1789+A2) Details For Technical and Medical
Abs left-right side and ceiling pannels
Central Oxygen System and tubes
Medical material and medicine
Electrical control panel compartments 
Seperator cabinet drawer rails 
ABS seperator cabinet-top bench 
Sliding door glass installation 
Roof, side and front panel floor coating 
Floor antibacterial pvc coating coating (plywood) 
1000w 12v to 220v inverter 
Touchscreen control panel system 
12v/ 220v electric sockets 
Front-rear bacon lamp (with light barloudspeaker) 
Side box light and siren announcer 
Reflective external writings 
Ceiling type serum hangers 
Fix type ambulance main stretcher (10G crash test) 
Fixed spyghonometer and stethescope 
Automatic suction machine 
Defibrillator with monitor 
After-Sale Services
Get in contact with Kademe sales department to find the best deal.
Brochure
See all Kademe products and their details in this brochure.