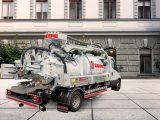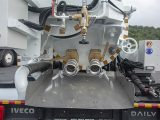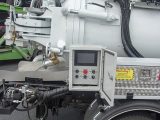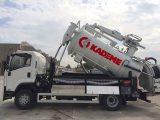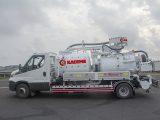 Combined Canal Jetting Vehicle
In the canalization system there are items that cause blockage such as pebble stone, soil, domestic waste and septic wastes. Combine jetting and washing machines are vehicles to unclog the canalization system with help of high pressure water power. On the other hand with help of suction power to ensure waste is moving to the waste water tank.
Type
Combined Canal Jetting Vehicle
Tank volume
10.000lt. - 20.000lt.
Dirty water tank material
ST-37, 304 & 316Cr - Ni
Clean water tank material
304 & 316Cr - Ni
Dirty water suction valve
4"-6"
Dirty water discharge valve
4"-6"
BOM hose system
4"-6" (Optional)
Suction pump capacity
1.500m³ /h - 9.000m³/h
Suction pump stimulation
Intermediate gearbox / auxiliary
Water pump
100 bar-250 bar
Pump flowrate
150lt./dk. - 425lt./dkn.
Pressure regulator
Pneumatic
Hose reel
Hydraulic 80mt - 120 mt (hose lenght)
Jetting reel
20mt. - 60mt.
Logar tap lifting crane
250 & 400kg. Capacity
After-Sale Services
Get in contact with Kademe sales department to find the best deal.
Brochure
See all Kademe products and their details in this brochure.