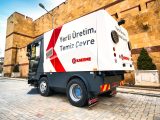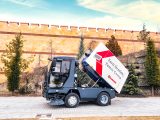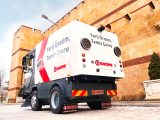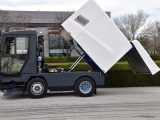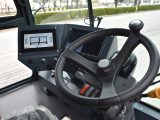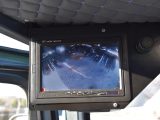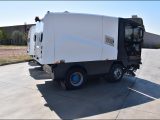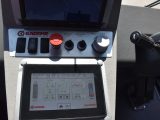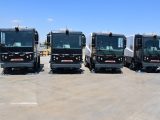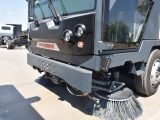 AGA 6000
Compact Road Sweeper
AGA 6000 Compact Road Sweeper
AGA 6000, the compact road sweeper with the highest volume in its class, easily cleans an area of 35,000m² in an hour. It provides the opportunity to work for a long time with its 100lt fuel tank. Adjustable brush speed from inside the cab is designed to increase the area swept per hour. AGA 6000 is suitable for all-season road sweeping in cities and municipalities of all sizes. Driver comfort is prioritized with its adjustable telescopic steering wheel, suspension driver's seat, interior screens, and in-cab air conditioning system with its powerful water spray system, it prevents dust around the side brushes and in the inlet channel. With its maneuverability from the front wheel, it easily performs the sweeping task even in narrow streets where vehicle entry is difficult. It offers easy access to the pavements with the optional front third brush that can be added to the vehicle.
You can find our various types of road sweepers here.
You can click here to view our other equipment.
Payload capacity
5.450 kg
Brand - Model
4.500 cc 4 Cylinder Water Cooled FPT N45 ENT Diesel Engine
Power
141 hp / 104 kW @ 2.200 RPM
Torque
608 Nm @ 2.000 rpm
Emission
EPA Tier 3 and EU Stage 3A
Front brush
Ø 500 mm (0 - 150 rpm Hydraulic Engine Driven)
Suction hose diameter
Ø 250 mm
Suction nozzle width
650 x 230 mm
Sweeping width
2.000mm - 2.300mm (With third brush 3.000mm)
Sweeping capacity
35.000 m²
Variable and adjustable brush speed
Wheelbase - Gross Vehicle Weight
1.805 mm / 11.500 kg
Dump height and angle
850 mm ve 50º ± 5º
Vacuum filter mesh area
1.8 m²
Hydraulic filtration
100 micron suction / 20 micron return
Irrigation pump information
11 lt. / 4 bar 24V
Garbage hopper structure
Stainless steel (AISI304)
Sweeping and cruising speed
0 - 15 km/h ve 40 km/h
Brake
Hydraulic type front and rear dynamic brake system
Suspension system
Front Hydropneumatic rear independent rubber suspension
Vehicle curb weight
6.060 kg
Wheel turning diameter
6.600 mm ±100
Type
Heavy duty, dynamically balanced impeller with multivane corrosion resistance blades
Operation speed
3000 - 4000 rpm
Fan air flow capacity
13.000 m³/ h
Construction material
Stainless steel (AISI304)
Adjustable and telescopic hydraulic steering wheel
Water tank level indicator
Camera system with in cabin 7" screen, rear view and suction nozzle cameras
Garbage hopper lift audible warning
Front wheel maneuverability
15lt / 150 bar high pressure pump with 10mt hose and washing gun
After-Sale Services
Get in contact with Kademe sales department to find the best deal.
Brochure
See all Kademe products and their details in this brochure.