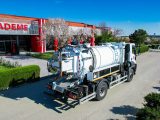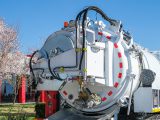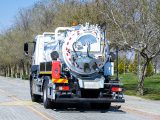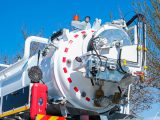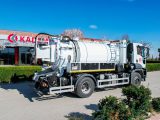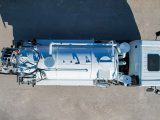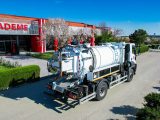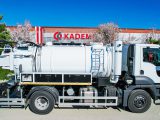 Combined Canal Jetting Vehicle
Combined Canal Jetting Vehicle
Combined jetting and cleaning vehicles are superstructure equipment that enables the removal of gravel pieces, soil, household waste and septic wastes that cause blockages in sewer systems by breaking and pushing with high pressure water. Combined jetting vehichles while opens the blockages in the canal, on the other hand, thanks to its high suction power, it ensures that the wastes are sent to the waste water tank.
Our Canal Jetting Tools offer the most economical and efficient solution for opening and cleaning hardened solid waste and blockages in the sewer system, drains and pipes. With the high pressure pump and hydraulically driven high pressure hose reel, the blockages in the duct are removed by using the breaking and driving force of the water.
Thanks to the world-class quality of the raw material used in production, it withstands difficult conditions and never let its user down.
Our Canal Jetting Vehicles are offered to our customers as S-Jet, M-Jet and Mobile Units as  3 different product options that may differ according to their usage areas.
Type
Combined Canal Jetting Vehicle
Tank volume
10.000lt. - 20.000lt.
Dirty water tank material
ST-37, 304 & 316Cr - Ni
Clean water tank material
304 & 316Cr - Ni
Dirty water suction valve
4"-6"
Dirty water discharge valve
4"-6"
BOM hose system
4"-6" (Optional)
Suction pump capacity
1.500m³ /h - 9.000m³/h
Suction pump stimulation
Intermediate gearbox / auxiliary
Water pump
100 bar-250 bar
Pump flowrate
150lt./m. - 425lt./m.
Pressure regulator
Pneumatic
Hose reel
Hydraulic 80mt - 120 mt (hose lenght)
Jetting reel
20mt. - 60mt.
Logar tap lifting crane
250 & 400kg. Capacity
After-Sale Services
Get in contact with Kademe sales department to find the best deal.
Brochure
See all Kademe products and their details in this brochure.