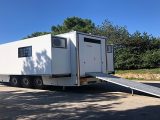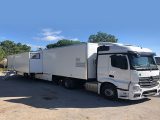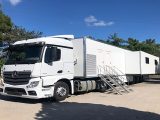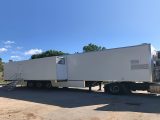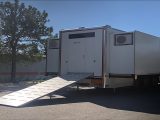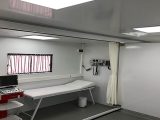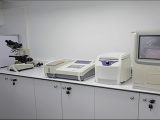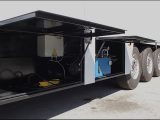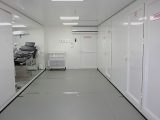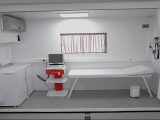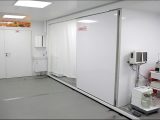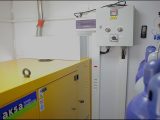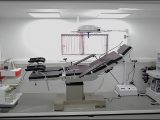 Mobile Hospital
Mobil Hospital Units
A mobile hospital functions as a fully equipped medical center or a small hospital. It offers a structure that can be quickly transported and placed in situations such as war or natural disaster.
Double-sided expandable mobile hospitals consist of an average of 6 rooms. The mobile hospital chassis, produced with a three-axle air suspension system, can reach a length of up to 13.5m Floor and wall coverings are made of antibacterial products. In times of need, different special medical activities can be brought together and a diversified screening and treatment service can be offered in the region.
Mobile hospital units are equipped with devices that can meet the medical needs of the people without a hospital building, even in small settlements.
For detailed information, you can contact us here.
3-2 axles, 10500 - 13500mm trailer, special manufacturing of Project
Axles with air suspansion system.
We will manufacturing according to tender request
Body constructions will be manufactured NPU140 box profile
Floor 90mm sandvich panel with steel construction.
Floor 22 mm marine type plywood and anti bacterial pvc
Side walls 55 mm panel system, inner and outside 2,5mm CTP isolation
42 kg/m3 polyurethane or DOW
Outside corners anodized aluminium profile
Left and right parking lamp
100 lt clean - grey water tanks
Hydraulic system installation (4 pcs side, 4 pcs floor fixing).
Hydraulic patient stretcher ramp system
Body side panels complate aluminium composite covering
Floor inner side aluminum composite covering
5 Pieces Outdoor Led Lamps
6 pieces air conditioning unit
Fire resistant cables and materials
After-Sale Services
Get in contact with Kademe sales department to find the best deal.
Brochure
See all Kademe products and their details in this brochure.