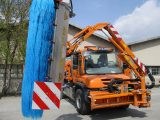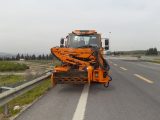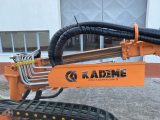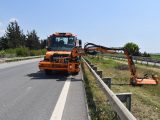 Mowing Grass, Tunel & Barrier Washing Vehicle
Mowing Grass, Tunnel & Barrier Washing Machines
Different attachments that can be added to the universal arm system mounted on a carrier vehicle are used for mowing grass, tunnel and barrier washing.
The reasons for using the grass trimmer are as follows:
To prevent various plants on the roadside from entering the road,
Making road signs visible
To make roadsides clearly visible to drivers and pedestrians.,
To provide the necessary areas for vehicles to stop by the roadside in an emergency
To minimize roadside fire risks in summer.,
To make livestock and wild animals near the road more visible to drivers and pedestrians.
Traffic signs, walls and tunnels on the roadside are polluted by weather conditions, exhaust gases, dust and pollen. In order to ensure the safety of highways, these areas should be cleaned at certain periods. The tunnel & barrier washer is an ideal tool for cleaning roadside traffic signs, walkways, ceilings and lighting panels in tunnels and subways. Position-adjusting sensors allow the brush to automatically adjust according to the surface profile. A water tank and water pump complete this compact washing unit.
Arm Extension Distance
7m From Center of Vehicle With Optional Telescopic Arm
Operator Usage
Right and Left Handed Use Is Possible
Shifting Arm Tower Right And Left
1.800m
Telescopic Extension Distance (Optional)
Hydraulicly Adjustable
Applicable Vehicles
It Can Be Applied With Front Pto On Vehicles Equipped With A Power Unit, Such As The Unimog Except For The Unimog, It Is Provided With An Additional Hydromechanical Intermediate Gearbox Added to The Carrier Vehicle
Control System
It Is Controlled By the Joystick Control System Working With Can Bus
Attachable Equipment
With The Quick - Chance Attachment Connection System, Weed and Branch Cutting Equipment, Tunnel Washing and Barrier Washing Equipment Can Be Connected
Torsion System
A System That Locks The Front Axle and Chassis Can Be Installed So That The Carrier Vehicle Does Not Tip Over During Operation. Applies to Unimog U500s
After-Sale Services
Get in contact with Kademe sales department to find the best deal.
Brochure
See all Kademe products and their details in this brochure.