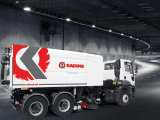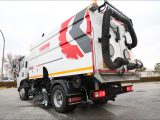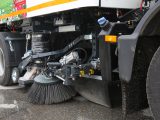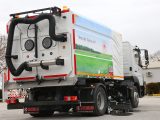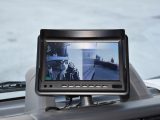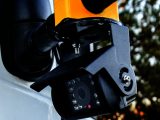 KDM 9,5 M³
Araç Üstü Vakumlu Yol Süpürme Makinası
Vacuum Type Road Sweeper
The KDM 9,5m³ Vacuum Type Road Sweeper continues the tradition of successful sweeper technology and with high quality materials and components, we ensure operational reliability and long service life.
General Features
Auxiliary Engine
Standard 115 Hp Auxiliary Engine generate enough power for vacuuming. 115 Hp Engine can generate necessary power with low operation rpm with low noise level and fuel saving.
User Friendly
Easy to understand and user friendly control panel give advantage to the operator to control whole system.
Fiber Doors
Fiber doors on both size give easy access to the auxiliary engine in case of maintenance or break down.
Suitable
Different size of vacuum type road sweepers from 4 cubic meters to 10 cubic meters can install to suitable carrier vehicles.
Efficient Irrigation
Standard high pressure water pump provides more efficient irrigation. It use less water with optimum water consumption level.
Payload capacity
5 - 6 ton (şasiye bağlı olarak)
Water tank
Çöp haznesi ile yekpare 2.200 lt paslanmaz çelik (AISI304)
Hydraulic reservoir
75 lt
AUXILIARY ENGINE INFORMATION
Brand - Model
Tümosan Dizel Motor 3.9 lt. 4 Silindir Su Soğutmalı
Power
115 hp / 86 kW @ 2.300 RPM
Torque
405 Nm @ 1.500 RPM
Emission
EPA Tier 3 and EU Stage 3A
Working speed
1.500 - 1.600 RPM
Side brush
Ø 450 mm - 200 dev/dk. Hidrolik motor tahrikli
Middle brush
Ø 400 mm x 1.300 mm - 160 dev / dk. Hidrolik motor tahrikli
Vacuum hose diameter
Ø 250 mm
Vacuum nozzle width
750 mm
Chassis requirement
Minimum 12 ton
Whellbase (ideal)
4.200 - 4.500 mm (6x2 veya 6x4)
Door opening angle
90° ± 5°
Hydraulic pump
16,8 cc / rev
Sweeping speed
0 - 15 km/h
Sweeping capacity
36.750 m²/h
Hopper construction
Kaynaklı çelik konstrüksiyon (opsiyonel paslanmaz çelik)
Type
Dinamik balansı alınmış ve paslanmaya karşı dirençli ağır hizmet fanı
Operation speed
2.700 - 3.400 dev/dk
Tahrik sistemi
Tork Konvertör veya baskı balata sistemi
Auxiliary engine hour control
Low level water indicator
Wander hose with boom and trunking excess 5 meters long
Adjustable side brush speed
Simultaneous dual suction and sweeping 3.500mm sweeping width
Variable side brush positioning system
High pressure washing system
Ön tampon yol yıkama sistemi
Ek su deposu AISI304 (Kabin ile üst yapı arası müsaitse)