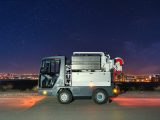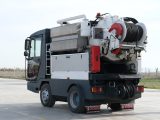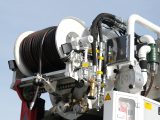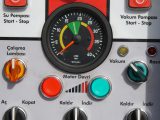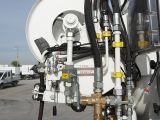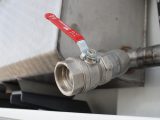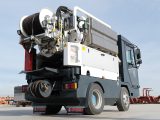 Sanss Combined Canal Jetting Vehicle
SANSS Combined Canal Jetting Vehicle
The SANSS combined canal jetting vehicle provides it users a comfortable working opportunity with its compact structure.  Its maneuverability enables it to provide fast access to problems in narrow streets in city centers where large vehicles cannot enter. It provides the opportunity to work for long periods with its 600 lt clean water tank and 1000 lt dirty water tank The high flow rate easily breaks down the wastes that cause blockages in the sewer system. Sanss Combined Canal Jetting Vehivle, while opening the blockages in the channel, on the other hand, it ensures that the wastes are sent to the waste water tank with its high suction power. It is designed to provide the highest level of hygiene conditions during work in city centers.
Sanss is supported by state of the art technology during the production phase. It helps the operator with closed equipment and advanced technology. Our vehicle, combined with advanced technology and equipment, shows our ecological sensitivity, which is our basic principle in production, by providing maximum working power with less fuel consumption.
Type
Sanss Combined Canal Jetting Vehicle
Dirty water tank material
ST-52
Clean water tank material
Stainless Steel AISI304
Dirty water suction valve
3"
Dirty water discharge valve
4"
Suction pump capacity
7.200m³/h
Suction pump stimulation
With the help of hydraulic engine
Pressure regulator
Mechanical remote
Brand - Model
Tumosan Diesel Engine, 3.9 lt 4 Cylinder Water Cooled
Power
115 hp - 86 kW @2300 rpm
Emission
EPA Tier 3 and EU Stage 3A
Ideal engine speed
1.500 - 1.600 rpm
Tire size
215 / 75 R 17.5
Wheelbase - Gross Vehicle Weight
1.816 mm / 11.500kg
Sweeping and cruising speed
30km/h
Vehicle curb weight
6060 kg
Brake
Hydraulic type front and rear dynamic brake system
Suspension system
Hydropneumatic suspension system
Adjustable telescopic hydraulic steering wheel
Front and rear camera control system 7"screen
After-Sale Services
Get in contact with Kademe sales department to find the best deal.
Brochure
See all Kademe products and their details in this brochure.